Home
»
Social Issues
» The News Reeks with Stories of Britney Spears and OJ Simpson, What About Jena Six
The News Reeks with Stories of Britney Spears and OJ Simpson, What About Jena Six
No matter what channel you turn to we are bombarded with the latest developments in the new bizarre OJ Simpson case. We are informed of the most intimate details of Britney Spears' divorce and career troubles….but no news on what is going on concerning the Jena Six in Louisiana.
There are hundreds of bus caravans from all over the United States on the way to Louisiana as I type this. Thousands of people from all over the country are expected to participate in the March on Jena. I have yet to see any television coverage on The Jena Six case or on the Jena Six Peace and Justice March Rally to be held outside of LaSalle Parish Courthouse to the Alexandria Ampitheater.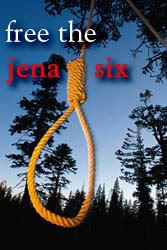 The local news here has not mentioned anything about the vigils and rallies being held in cities around the nation. Is this case not news worthy? One would think that six black teens unjustly charged with attempted murder and thousands of outraged citizens caravaning to show support and demand justice would make the news.
Just as the Jena Six case shows that racism is still a factor in American culture, news coverage of this case shows how deep racism really goes.
I won't be in Jena for the march but I will be wearing black. I will do what I can from where I am to speak up, stand up, and be heard. Since the news "don't know, don't show or care about whats going on in the hood" many are stepping up to keep people informed about what is really going on.
A coalition of civic groups has formed www.freethejena6.org as a standing central location, providing solutions for those who are seeking information with intent to take action.
Afrosphere Jena 6 Coalition Advisory Group:
Wayne Hicks electronicvillage.blogspot.com
D. Yobachi Boswell www.BlackPerspective.net
Francis Holland afrospear.jconserv.net
Daz Wilson purplezoe.blogspot.com
Part 1

Part 2

Part 3

Part 4

Part 5

Part 6

Conviction overturned in racially charged case
Sept. 15: A Louisiana appeals court has overturned a conviction that could have sent a black teenager to prison.
"Although there will not be a court hearing, we still intend to have a major rally for the Jena Six and now hopefully Mychal Bell will join us," Sharpton said in an e-mailed statement. (more...)
About The Author
Living Life Abundantly Motivator Blogger Entrepreneur Extraordinaire! Living Life Abundantly is a life style choice of personal development, self improvement, and inspired action. I created this blog with the intention of entertaining, educating, and empowering those ready for change.